THE LITTLE BLOOD SOAKED BOOK
---
{{item.currency}} {{pricing}}
---
---
{{item.currency}} {{pricing}} {{item.currency}} {{item.normalPrice}}
---
{{item.currency}} {{pricing}} - Out of Stock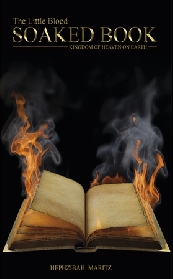 "Abba Father, will people ever be able to understand what a Garden-in-Eden relationship is about?" I asked our Creator Father one morning while waiting on Him in the quietness of my prayer room.
His immediate response filled my inner most being.
"A Garden relationship is not within the reach of anybody, unless they first enter into a relationship with Me. They first need to know Me before they will be able to appreciate the Garden, because I am the Garden.
"But Hephzibah, they may also ask you: 'What and where is this Garden in Eden?'
"That is why I am going to give you access to My Garden. I want you to journal your experience and sweet fellowship with Me, to allow My people a glimpse of what is waiting on them when they enter the gate of a Garden-in-Eden relationship with Me."
That night my Abba Father woke me with this command: "Hephzibah, build up your strength as you are stepping into a higher calling as a messenger. It is time to enter My Garden-in-Eden. I will take you by the hand and lead you past the cherub with the glittering sword. I will open the gate for you to enter into My garden, precious messenger."